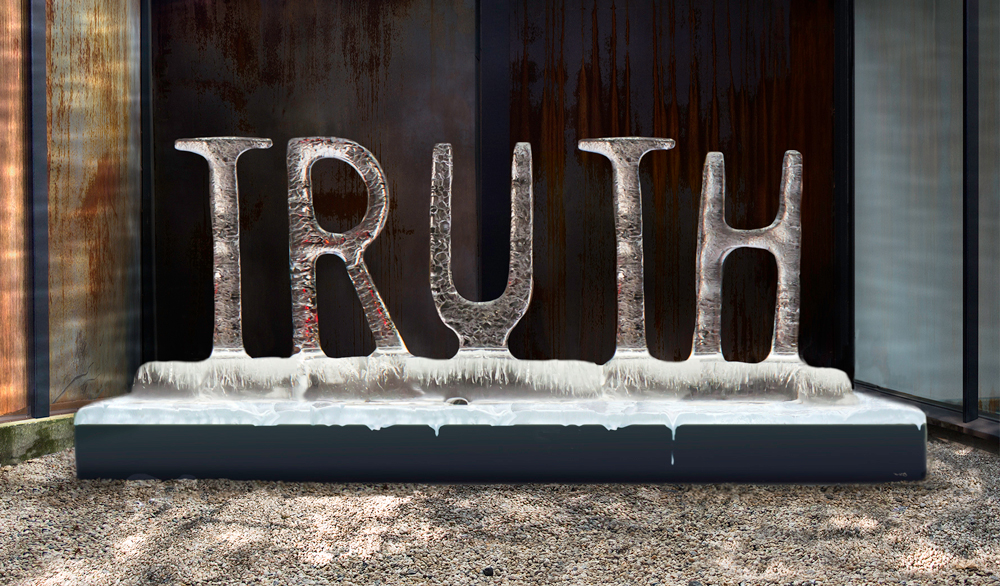 The ice sculpture's straightforward display . . . conceals a rare capacity to elicit complex reactions and intense emotions . . . demonstrating sculpture's power to engage our bodily awareness . . .

— Robert Atkins
Launching January 20, 2018, the first anniversary of the Trump administration, we are melting a 2,000 pound ice sculpture of the word Truth in the garden of Jim Kempner Fine Art in New York City. The installation, Truth be Told, symbolizes the emergence of an alternate fact world – where belief supplants truth.
The work will last for days, one week, possibly longer, an almost imperceptible disintegration that belies the force and speed at which the current administration is attempting to undermine the basic concepts of our nation's history and governance.
Truth Be Told is the sixth sculpture of Melted Away the temporary monuments series begun in 2006. In presenting these works we have discovered that melting ice sculptures are the perfect vehicles to depict the transformation of social values and semantic meaning. Last year, on January 20, 2017, we entered uncharted territory with no real way of measuring how far away we are from where real ground truth lies.
The monuments of Melted Away are ideal markers for the opening decades in the 21st century – first, DEMOCRACY is broken, then, the ECONOMY ruined; the MIDDLE CLASS disappears, THE FUTURE is tenuous, THE AMERICAN DREAM vanishes, and TRUTH remains an open question.