TRUTH BE TOLD – unveiling on 3 PM, January 20, 2018, first anniversary of the Trump inauguration, at Jim Kempner Fine Art 501 West 23 Street, NY, NY, and streaming live until it's gone.
This is the sixth in a series we've done since 2006. The temporary monuments of Melted Away are markers for the opening decades of the 21st century – first, DEMOCRACY is broken, then, the ECONOMY ruined; the MIDDLE CLASS disappears, THE FUTURE is tenuous, THE AMERICAN DREAM vanishes, and TRUTH remains an open question.
Site is visible from the street at all times, 24/7. We will be streaming LIVE for the duration, at meltedaway.com, on Facebook Live and on a network of galleries in North America. (Participating venues listed below.) Comments welcome – on Twitter @melted_away, Instagram @meltedaway, and on the Facebook Live feed.
The work will last for days, one week, possibly longer, in an almost imperceptible disintegration that belies the force and speed at which the current administration is attempting to undermine the basic concepts of our nation's history and governance.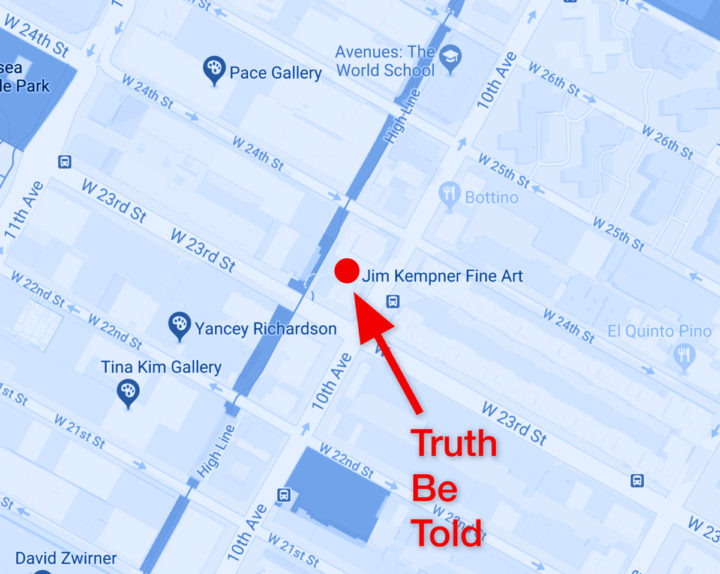 Jim Kempner Fine Art is located at 501 West 23 Street, corner of 10 Avenue and 23 Street.
Thanks to net neutrality the entirety of TRUTH BE TOLD is streaming at these galleries, universities, institutions and museums:
ArtsEverywhere
Catharine Clark Gallery
Contemporary Art Museum, University of South Florida, Tampa, Florida
Eyebeam
Harbourfront Centre
Institute of the Arts and Sciences and the Digital Art/New Media MFA Program of UC Santa Cruz Arts Division
Nevada Museum of Art
San Jose Institute of Contemporary Art
Streaming Museum
Division of Media Arts + Practice, School of Cinematic Arts, University of Southern California