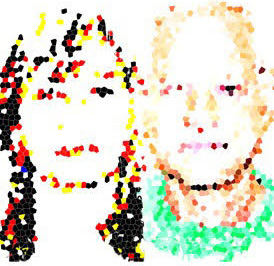 LigoranoReese is the collaboration of artists Nora Ligorano and Marshall Reese, a singular vision that fuses the two artists' individual conceptual contributions into a powerful voice. Starting in the early 1980s, Ligorano/Reese's work is an ongoing investigation into the impact of technology on culture and the associations and meanings that the media brings to images, languages, and speech. Their body of work is multidisciplinary, including limited edition multiples, videos, sculptures and installations which involve a range of materials and processes. The installations, The State of Things, Main Street Meltdown, Morning in America and Dawn of the Anthropocene 2008-2014 are performative sculptures carved in ice that combine natural processes of erosion and decay with flexible duration. These pieces make profound political statements using the simple element of disappearing ice and open forms to involve community interaction.
Works from 2000-the present reinterpret older forms of technology using mirrors, clocks, and codex bindings and video screens. In 2003, they invented micro-projection systems to display films on the head of a pin and on counterweights of metronomes. 50 Different Minds, their first fiber optic data tapestry debuted at the Zer01 Festival in San Jose in September 2010. It is a computer controlled, woven fiber optic wall piece that displays patterns and color through the textile's threads from real-time internet data. The second data tapestry I•AM•I is a woven data portrait generating patterns based on an individual's Fitbit data and responses to an emotional survey.
LigoranoReese have shown widely throughout their career, and are included in the public collections of many institutions, not limited to the San Francisco Museum of Modern Art, San Francisco; The New York Public Library, New York; and the Whitney Museum of American Art, New York. They have also been awarded multiple grants including the National Endowment for the Arts in 1986 and 1989, and have received artist residencies at Stichting Steim in Holland in 2000 and the Eyebeam Center for Art & Technology in New York in 2009, among others. Ligorano/Reese live and work in Brooklyn, New York. They show with Catharine Clark Gallery in San Francisco and Jim Kempner Fine Art in New York.
See also ligoranoreese.net
Save
Save
Save
Save
Save
Save
Save